Martha Jackson Jarvis: What the Trees Have Seen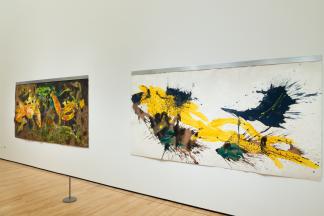 Inspired by family research into her great-great-great-great grandfather Luke Valentine's service as a free Black militiaman in the American Revolution, Martha Jackson Jarvis has created mixed-media works that imaginatively retrace his journey from Virginia to South Carolina during the Revolutionary War. The result is a tour de force in abstract painting with 13 grandly scaled works on paper, and a focused group of smaller works inspired by the meditative form of the mandala.
Jackson Jarvis imagines her ancestor's movements on foot across shifting terrains—venturing from home into thickets, waterways, weather, and bugs—through a landscape at once treacherous and verdant. She continues this body of work while meditating on the emotions from bravery to fear and serenity that Valentine may have felt on his journey during the Revolutionary War.
Thursday evening hours until 9:00 PM
Event Contact
Sarah Pedroni
443-573-1700
Event Details
Sunday, September 24, 2023, 10:00 AM – 5:00 PM
Repeats weekly Sunday and Wednesday and Thursday and Friday and Saturday -- until Sunday October 1, 2023.
Free
Location
Add Event To Your Calendar