Common Ground on the Hill Roots Music & Arts Festival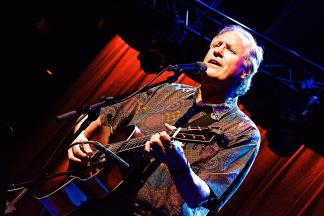 To mark the culmination of Common Ground on the Hill's Traditions Weeks, an all-day festival features traditional arts, crafts, music, and dance, plus kid-friendly activities, food vendors, and a wine and beer garden. 3-time GRAMMY winner Tom Chapin headlines. Other acts include Blues Hall of Fame band Professor Louie & the Crowmatix, GRAMMY nominee Guy Davis, Nicolas Carter, Steafan Hannigan, Shannon Quinn, Michael G. Ronstadt, Barry Mitterhoff, John Haywood, Bryan McDowell, Susan Boyer Haley, Tom Mindte, Andy Cohen, Ken Kolodner, and many more. Host band: Walt Michael & Co.
The day begins with the 52nd Deer Creek Fiddlers' Convention with band and individual instrumentalists and vocal competitions in genres including bluegrass, old-time and Celtic music, as well as the Eileen Carson Schatz Memorial Appalachian Dance contest. Deer Creek registration begins at 9 AM; contest begins at 10 AM.
The crowning event of the Festival is the awarding of the Robert H. Chambers Award for Excellence in the Traditional Arts.
Event Contact
Maria Wong
443-622-2369
Event Details
Saturday, July 8, 2023, 12:00 AM – 12:00 AM
410-857-2771
Location
Add Event To Your Calendar
What Others Are Saying
"A beautiful festival, and a kind one." ~ Jens Kruger of The Kruger Brothers
Named a Maryland Top 5 Tourist Event by the Maryland State Tourism Board