POSEN x POSEN x POSEN Exhibition Opening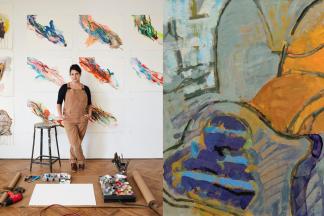 Join us at The Peale for the opening!
POSEN x POSEN x POSEN brings together the artistic endeavors of the Posen family—Stephen Posen, Alexandra Posen, and Zac Posen—and explores the remarkable contributions they have made to the realms of art and fashion. Stephen Posen, as an abstract painter, channels his creativity onto canvas, while Alexandra Posen expresses her artistic vision through sculptural forms. Zac Posen, on the other hand, has left an indelible mark on the fashion industry with his distinctive designs.
In contrast, let's look back to the Peale family, whose artistic legacy spans the colonial and early national periods of the United States. Charles Willson Peale, renowned as a portrait painter, also established the very first major museum in the country, aptly named now, The Peale. The artistic pursuits of his sons—Raphaelle, Rembrandt, and Titian Peale—focused on still-life paintings, portraiture, and natural history illustrations.
While the artistic careers of the Posen and Peale families differ in terms of medium and historical context, it is undeniable that both families have left an indelible mark on the art world. This exhibition seeks to draw parallels and explore the connections between these two remarkable families, celebrating their diverse artistic achievements and their lasting impact on the artistic and cultural fabric of their respective eras.
Event Contact
Kim Domanski
6672221814
Event Details
Thursday, June 15, 2023, 4:00 PM – 7:00 PM
4126933725
Free
Location
Add Event To Your Calendar