The Big Baltimore Kite Fest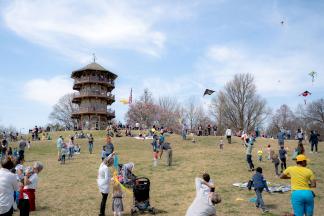 SAT MAR 25 | Patterson Park | Noon-4pm Rain Date: SUN MAR 26
Blowing back into Patterson Park this spring, The Big Baltimore Kite Festival fills the sky with vibrant colors and celebrates the broad spectrum of cultures that make up Baltimore! Join us near the Patterson Park Observatory to make your own friendly flyer, listen to breezy music, watch kite demonstrations, and enjoy a day outside in our beautiful park! Bring a picnic blanket, bring a kite, bring your friends!
The BIG Baltimore Kite Fest is an acoustic event with no generators or amplification. Let's leave the screens behind and enjoy a breezy day outside in our favorite park!
On-site: Friendly Flyer workshop (free), kites for sale at the Creative Alliance Tent, food vendors, pop-up performances throughout the park, professional fly zone, and more! No alcohol will be sold on-site. We encourage you to stop by a local business and bring a picnic to the park!
Event Contact
Event Details
Saturday, March 25, 2023, 12:00 PM – 4:00 PM
Free
Location
Add Event To Your Calendar