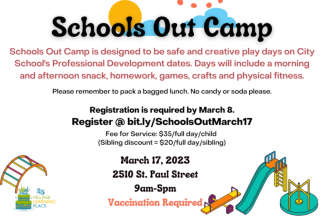 Registration is required by March 8th!
Schools Out Camp is designed to be safe and creative play days on City School's Professional Development dates. Days will include a morning and afternoon snack, homework, games, crafts and physical fitness.
Please remember to pack a bagged lunch. No candy or soda please.
*Vaccination Required
Event Contact
Village Learning Place
4102352210
Event Details
Wednesday, March 8, 2023, 9:00 AM – 5:00 PM
Prices:
$35/full day/child; (sibling discount) $20/full day/sibling
–
$
4102352210
Location
Add Event To Your Calendar