Ronn McFarlane & Carolyn Surrick: An Evening of Lute & Viola da Gamba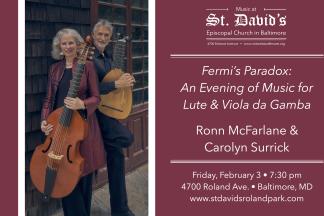 An evening of music for lute and viola da gamba from Ronn McFarlane and Carrolyn Surrick.
Acclaimed lutenist Ronn McFarlane returns to St. David's, alongside Carolyn Surrick, viola da gamba, to present an evening of Renaissance and Baroque music, Celtic and Swedish folk tunes, and original compositions.
The event is free and open to the public, with doors opening at 7:00 pm. A suggested donation of $15 ($10 retirees & students, no obligation for children 12 and under) directly benefits the musicians and the music series. Masks are encouraged.
Ronn McFarlane and Carolyn Surrick perform "Fermi's Paradox."
Event Contact
Douglas Buchanan
410-467-0476
Event Details
Friday, February 3, 2023, 7:30 PM – 10:00 PM
410-467-0476
Free
Location
Add Event To Your Calendar
What Others Are Saying
A music series "offering admirable variety and depth of repertoire" (The Baltimore Sun), with free concerts, Evensongs, & special events through the year.
"probably the finest living exponent of his instrument" ~The Times Colonist, Victoria, B.C. "The songs posess a timeless charm and pith that are captured with effortless grace by the remarkable lutenist Ronn McFarlane" ~Time "...some of the most ravishing lute playing to be heard anywhere." ~The Washington Times