Raktism and Metachaos: Ainsley Burrows Exhibition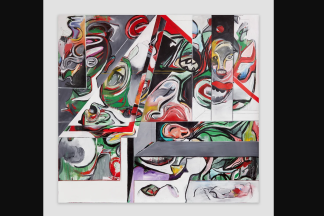 Raktism is a new method for investigating the fourth dimension, developed by contemporary artist Ainsley Burrows.
Burrows' Raktist paintings are characterized by bright colors and soft shadows that often include abstract figures whose movements and features are choppy, creating the perception that we're seeing them at different moments in time, from various perspectives. Sharp lines box in figures (be they spiritual or mortal) while parts of their bodies escape the framing devices. The escaped parts appear refracted or create a visual echo from the shape that was intersected. The lines cut the image and the space, splitting time and space simultaneously. Cubism, which also pursued the fourth dimension, splits the image itself to see the image in the round in a 2D medium; Raktism, however, taps the fourth dimension by splitting the image into different time signatures and revealing multiple planes.
About the Artist
Ainsley Burrows (b. 1974 in Kingston, Jamaica; based in Brooklyn, NY and Baltimore, MD) is a multidisciplinary artist who explores untold stories and unspoken emotions. He is a poet, musician, and performer, as well as a painter, and his different creative pursuits influence each other. Raised in Kingston, Jamaica and Brooklyn, NY, Burrows paints with his upbringing in the foreground, referencing the many lessons and stories, historical figures and events, and movements and diasporas that have shaped his perspective.
Burrows' practice mainly uses two methodologies: NeoChaos and Raktism. The former is characterized by expressive gestures and lines, and deep, passionate swaths of color. With it, he explores the reverberations of a history that continues to affect him, showing how the past is alive and how we must make its legacy visible. Raktism is defined by sharp, boundary-creating lines and visual echoes. It is an exploration of the fourth dimension and an attempt to understand the unknowable through systems of control. The flow of lines—sometimes connecting, sometimes separating—represent the many streams of sudden, painful, and historic phenomena…highways of time.
Burrows has upcoming solo exhibitions at SUNY Oneota, Oneonta, NY; Rush Arts, Philadelphia, PA; The Lion Gallery, Los Angeles, CA; and Creative Alliance, Baltimore, MD. He is participating in an upcoming group exhibition at 11:Eleven Gallery, Washington, DC; and in the past has participated in group exhibitions at Amos Eno Gallery, Brooklyn, NY; Brookhaven National Laboratory, Upton, NY; and 3rd Eye Sol-lation Gallery, Brooklyn, NY. His work is included in several private collections including those of Hill Harper, Jeffrey Wright, Wayee Chu, Lisane Basquiat, Jeanine and Herve Heriveaux, and Andre and Joia Perry.
Event Contact
Event Details
Friday, February 10, 2023, 12:00 AM – Saturday, April 1, 2023, 12:00 AM
Free
Location
Add Event To Your Calendar