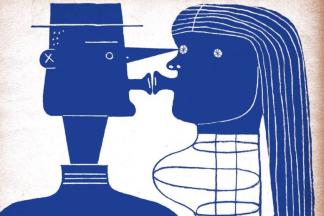 HUBBA HUBBA
A New Show About Romantic Love
By Alex and Olmsted
Through April 2
Created and performed by Alex and Olmsted, HUBBA HUBBA is a collection of vignettes using puppetry and movement to explore different aspects of romantic love.
From the dawn of life to modern romance and beyond, HUBBA HUBBA is a comedy that incorporates handmade mechanical objects, puppets, trick costumes, and masks to investigate the many different qualities of love's triumphs and love's obstacles.
There will be live singing and music, shadow puppetry and physical comedy, and, as is expected from an Alex and Olmsted production, audience participation.
Appropriate for all ages!
COVID Policy:
All guests must wear masks while inside Theatre Project.
If you have any COVID-associated symptoms the day of the show, please do not attend.
Showtimes:
March 30 @ 8pm
March 31 @ 8pm
April 1 @ 3pm
April 1 @ 8pm
April 2 @ 3pm
Tickets:
General Admission: $20
Student/Senior/Artist/Military: $15
HUBBA HUBBA Trailer
Event Contact
410-752-8558
Event Details
Repeats weekly Thursday and Friday and Saturday -- until Saturday April 1, 2023.
Repeats weekly Sunday and Saturday -- until Sunday April 2, 2023.
410-752-8558
Location
Add Event To Your Calendar