You Can See Me in the Dark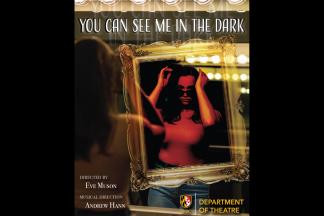 UMBC Theatre presents You Can See Me in the Dark, directed by Eve Muson, with musical direction by Andrew Mann. A wild ride of monologues, scenes and songs that celebrate the secrets we keep and the secrets we reveal. Performed by the company of actors in audition and business of acting, this year's company of actors perform cutting edge work written by award-winning playwrights on the contemporary scene.
Performances
Friday, December 2, 8 p.m. — opening night reception
Saturday, December 3, 2 p.m. — free matinee for UMBC students*
Saturday, December 3, 8 p.m.
Sunday, December 4, 2 p.m. — prospective student day
$15 general admission, $10 students and seniors. Please visit here to reserve seats.
Please note: There is no late seating for this production — please plan to arrive with plenty of time in advance.
*Complimentary tickets will be available for UMBC students for the Saturday, December 3, 2 p.m. matinee performance. These tickets will become available online Wednesday, November 30, at noon.
Special Event
Prospective Student Day — Sunday, December 4th at 1 p.m.
Interested in attending UMBC? Join us for the show, and be sure to arrive early (1pm) to learn more about our program!
Includes: a pre-show meet and greet where prospective students can get to know current students and faculty, AND backstage tour of our facilities right after the show.
$5 Tickets are available for Maryland high school teachers and students. Just use the code MDStaff&Students at checkout. Please register here. If you have questions or want more information, please contact our theatre recruiting coordinator, Adam Mendelson.
Event Contact
Event Details
Friday, December 2, 2022, 8:00 PM – 10:00 PM
Saturday, December 3, 2022, 2:00 PM – 4:00 PM
Saturday, December 3, 2022, 8:00 PM – 10:00 PM
Sunday, December 4, 2022, 2:00 PM – 4:00 PM
Location
Add Event To Your Calendar