2023 BALTIMORE CRANKIE FESTIVAL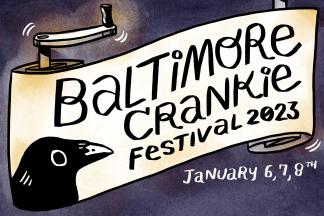 Watch the world's greatest stories unroll before your eyes! Baltimore's beloved festival of scrolled panoramas, known as "crankies," returns for its 9th year of fireside wonder!
The festival, the largest of its kind in the country, works with artists to showcase crankies from Baltimore and beyond! A crankie is basic in concept: it is a scroll that provides the visual narration to a story or song. Versions of the crankie have been around for hundreds of years, if not longer; their most recent iteration is directly linked to moving panoramas popular in the 19th Century. In recent years, artists have begun to embrace the intimacy of the format, creating multi-layered, immersive experiences for audiences.
4 Shows!
In-person:
FRI JAN 6 – 8pm,
SAT JAN 7 – 4 & 8pm,
SUN JAN 8 – 2pm
Virtual: SAT JAN 6 – 8pm
All performances will feature the same lineup of artists and musicians!
Event Contact
Event Details
Friday, January 6, 2023, 8:00 PM – 10:00 PM
Location
Add Event To Your Calendar