Baker Info Sessions (Virtual)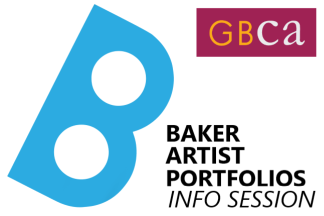 BAKER ARTIST POTFOLIOS
FREE Online Portfolio
$90,000 in annual awards
Discover other artists in the region
Be part of the Baker community!
INFO SESSIONS
Want to learn more about the Baker Artist Portfolios and associated awards?
Have questions about the Baker program or website?
Need help with your portfolio?
Want to hear tips and pointers?
Join us for a Baker Info Session!
Virtual Sessions:
Monday, November 7, 6pm
Thursday, December 1, 6pm
Wednesday, December 7, Noon
Info sessions are approximately 90 minutes in length, including time for questions.
Event Contact
410-230-0200 ext. 2
Event Details
Monday, November 7, 2022, 6:00 PM – 7:30 PM
Thursday, December 1, 2022, 6:00 PM – 7:30 PM
Wednesday, December 7, 2022, 12:00 PM – 1:30 PM
Free
Location
Add Event To Your Calendar