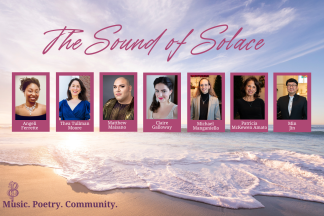 Our 9th season opens with this stunning program of songs and spirituals exploring the ways in which we find solace—in nature, in the divine, and in our relationships with those we love. Works by Johannes Brahms, Fanny Mendelssohn Hensel, Hall Johnson, Jacqueline Hairston, Lena McLin, Ralph Vaughan Williams, Clara Edwards, Maurice Ravel, Gunnar de Frumerie, Gwyneth Walker, Steven Mark Kohn, Hyo Geun Kim, and Susan La Barr will be performed by Angeli Ferrette, Claire Galloway, Min Jin, Matthew Maisano, Michael Manganiello, Thea Tullman Moore, and Patricia McKewen Amato.
The concert will be followed by an outdoor reception, weather permitting.
Masks are strongly encouraged during the performance. Thank you for helping to keep our community healthy!
Learn more about our organization and join us for the opening of our 9th season on Sunday, October 23 in Baltimore!
Event Contact
Thea Tullman Moore, Executive Director
4439006177
Event Details
Sunday, October 23, 2022, 3:30 PM – 5:00 PM
4439006177
Location
Add Event To Your Calendar