BMA Makers: Mud to Music South American Instrument Making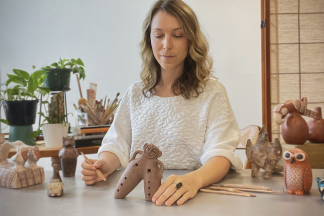 Spend your Thursday evening with musician, instrument-maker, and composer Melissa Foss as she leads a hands-on workshop on musical instruments made across Central and South America for thousands of years. Foss will lead a tour of instruments in the museum's Indigenous Arts of the Ancient Americas collection and engage us in the sophisticated ways these cultures have used sound, music, iconography, and sculpture to express their world visions. Learn to build your own clay flute using ancient pottery-making techniques and contemplate the relevance of ancestral wisdom in our world today.
All are welcome, and no previous experience with clay, instruments, or music is necessary.
This free event is for adults only. Registration is required.
Event Contact
(443) 573-1700
Event Details
Thursday, October 20, 2022, 5:30 PM – 9:00 PM
Free
Location
Add Event To Your Calendar