Halloween Happening, Haunted Barn and Hayride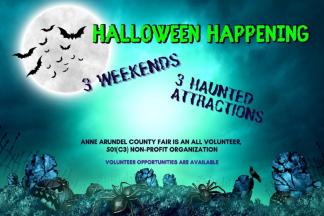 You enjoyed the County Fair with the lights on, but what happens when it's all over? Fear itself is hiding in the corners. Will you be able to survive the horror awaiting there? There is only one way to find out!
Halloween Happening is an annual Fall fundraiser. Anne Arundel County Fair, Inc. is an all-volunteer, non-profit organization not subsidized by the County or State Governments.
SATURDAY OCTOBER 15 - 7PM - 10PM
SUNDAY OCTOBER 16 - 7PM - 9PM
FRIDAY OCTOBER 21 - 7PM - 10PM
SATURDAY OCTOBER 22 - 7PM - 10PM
SUNDAY OCTOBER 23 - 7PM - 9PM
FRIDAY OCTOBER 28 - 7PM - 10PM
SATURDAY OCTOBER 29 - 7PM-10PM
Event Contact
City Spark
410-923-3400
Event Details
Saturday, October 15, 2022, 7:00 PM – Saturday, October 29, 2022, 10:00 PM
410-923-3400
Location
Add Event To Your Calendar