Sutradhar Institute of Dance and Related Arts Studio Tour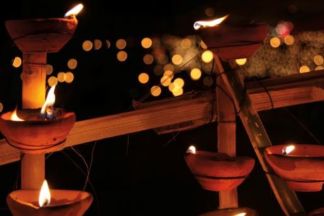 Studio Tour
Sutradhar Institute of Dance and Related Arts
Saturday, October 22. 11am.
1525 Forest Glen Road, Silver Spring, MD 20910
Register(required): bit.ly/aacc-oct22-sidra
Tickets: $15 general/$10 AA&CC members
Visit this hub of Indian dance, storytelling, and visual arts in Silver Spring comprised of studios, open-air spaces, a yoga garden, and a sacred North Indian-inspired stage made with recycled materials. Learn kuchipudi hand gestures and basic foot stamped rhythms and observe an advanced dance lesson. Explore the yoga garden, landscaped with earthenware from India and a large mural of Princess Sita by a Silver Spring artist. Enjoy chai, samosas, and other light snacks while chatting with SIDRA's founder, Nilimma Devi, and the passionate, inter-generational, bi-cultural Devi Dance performers. Part of the Asian Arts & Culture Center's Creative Confluence season.
Event Contact
Asian Arts & Culture Center
4107042807
Event Details
Saturday, October 22, 2022, 11:00 AM – 2:00 PM
4107042807
Location
Add Event To Your Calendar