From Reptiles to Radium: Dr. Howard A. Kelly's Life through Artifacts and Archives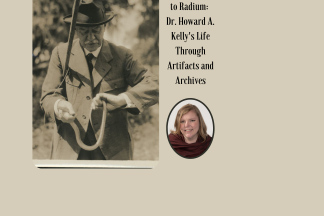 Known for his wide-ranging interests, Dr. Howard A. Kelly - one of the founding physicians of Johns Hopkins Medical School and Hospital - lived a life full of passion for the natural world, dedication to the medical care of women, and interests and hobbies ranging from mushrooms to women's suffrage to uranium ore. Learn about this fascinating man from Natalie Elder - Curator of Cultural Properties at the Chesney Medical Archives - and see artifacts, photographs, and papers from Kelly's life and career up close during this special presentation.
The event is free and open to the public, but reservations are required as seating is limited. Visit https://bit.ly/DrKellyTix for reservations.
This special presentation is part of Dr. Kelly's Liriodendron: Life, Legacy & Community - a year-long series of programs, supported by The Dresher Foundation, which explores the interests and influences of Dr. Howard Atwood Kelly - world-renowned surgeon, naturalist, philanthropist, and author, and one of the founders of Johns Hopkins Medical School and Hospital.
Event Contact
Brenna Kupferman
4108794424
Event Details
Tuesday, September 27, 2022, 6:30 PM – 8:00 PM
4108794424
Free
Location
Add Event To Your Calendar