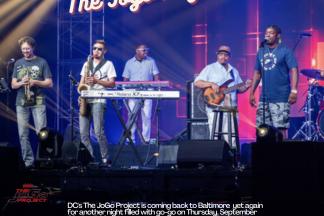 The JoGo Project is coming back yet again for another night filled with go-go on Thursday, September 22nd at 7:30pm!
The JoGo Project is a band from Washington, DC that fuses many styles of music, but with Jazz harmonies and a driving Go-Go beat at its core. JoGo was founded by DC Native and Jazz Saxophonist Elijah Jamal Balbed during a residency at Strathmore in 2014. Eight years later, The JoGo Project has become a mainstay in the DC music community and is dedicated as ever to keeping DC's Go-Go music alive while also exploring new sounds and repertoire. Over the years, the band has written several original songs and created original arrangements of songs less-commonly performed in the Go-Go idiom such as "Free" by Deniece Williams or "Walking On Sunshine" by Katrina & The Waves, to name a few. In 2011 when Elijah was a Sophomore at Howard University, he received a life-changing call to perform with the Godfather of Go-Go - Chuck Brown. Elijah performed with Chuck from May of 2011 until the Godfather's death the following year - May 16th, 2012. That year Elijah spent with Chuck instilled a new-found love for Go-Go music, which would forever influence his sound and approach to music. When it was time for Elijah to start a band of his own - he knew it had to be something that brought his Jazz and Go-Go worlds together.
Hence, The JoGo Project.
JoGo has branched outside of the DMV with performances at Club Bonafide (NYC), Silvana (NYC), Beyu Caffe (Durham, NC), The Vagabond (Richmond, VA), and many venues in and around the DC area such as Blues Alley, The Kennedy Center, The Soundry, and DC Jazz Festival (to name a few). In 2018 the band went on a cultural diplomacy tour to 3 cities in Russia (Moscow, Orenburg, and Yekaterinburg) on behalf of the U.S. State Department, where the musicians conducted educational masterclasses, participated in radio interviews and did performances ranging from intimate Jazz clubs to massive concert halls. In 2019, the band won a WAMMIE Award in the category of Best Go-Go Song for "Dear Draylen" composed by Elijah, with lyrics by JusPaul Spires and featured artist Wes Felton. In 2020, the band released their debut holiday track "JoGo Christmas" featuring Go-Go legend Sugar Bear. Since June of 2021, JoGo has maintained a monthly residency at the historic Jazz club in Baltimore - Keystone Korner. Most recently, Elijah was included in a published book called "DC Go-Go: Ten Years Backstage" by Chip Py - Chuck Brown's last (and only) official photographer.
Sponsored by The Truth In This Art Podcast & Creative Affairs Office, Office of Cable Television, Film, Music & Entertainment.
Event Contact
Event Details
Thursday, September 22, 2022, 12:00 AM – 12:00 AM
Location
Add Event To Your Calendar