The Bauder Lecture featuring Author Gabriel Bump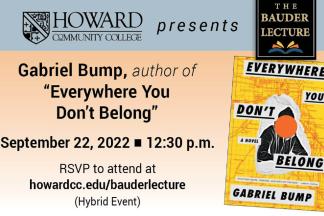 Gabriel Bump, author of "Everywhere You Don't Belong," will deliver the keynote at the second annual Bauder Lecture by Howard Community College. Following his keynote, Bump will be joined by Tyrese L. Coleman, author of, "How to Sit," for an in-depth conversation. Bump's keynote will be offered in a hybrid format, both live in person and streamed via Vimeo, on September 22, 2022, at 12:30 p.m.
"Everywhere You Don't Belong," follows protagonist Claude, a young Black man born on the South Side of Chicago and raised by his civil rights-era grandmother, who tries to shape him into a principled actor for change; yet when riots consume his neighborhood, he hesitates to take sides, unwilling to let race define his life. He escapes Chicago to go to college, to find a new identity, and to leave the pressure cooker of his hometown behind. But as he discovers, there is no safe haven for a young Black man in this time and place called America.
The Bauder Lecture will take place in Howard Community College's Smith Theatre at the Horowitz Visual and Performing Arts Center. To learn more about the Bauder Lecture and RSVP for the event, visit howardcc.edu/bauderlecture. This event will include sign-language interpretation for patrons joining both in person and via Vimeo.
The Bauder Lecture by Howard Community College is made possible by a generous grant from Dr. Lillian Bauder, a community leader and Columbia resident.
Event Contact
Event Details
Thursday, September 22, 2022, 12:30 PM – 1:30 PM
Free
Location
Add Event To Your Calendar