NOTIONS OF PLACE—REVISITED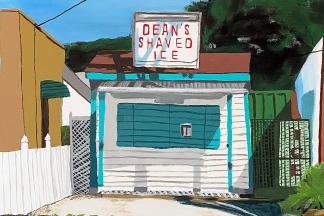 The Esther Prangley Rice Gallery is located in Peterson Hall at McDaniel College. Hours are Monday through Friday, 10 a.m.-4 p.m., and Saturday, noon-5 p.m. For more information, call 410-857-2595 or visit https://estherprangleyricegallery.com.  
The exhibition includes interpretations by McDaniel College art faculty, alumni, and current students focusing on the notion of "Place" as it pertains to work. Those with work in the exhibition are McDaniel faculty members Steven Pearson, the Joan Develin Coley Chair in Creative Expression and the Arts, and assistant professor Chloe Irla, who is a 2007 alumna of the college. Also showing their work are 2020 McDaniel alumni Lauren Beckjord of Chambersburg, Pa., and Sheila Evans of Falls Church, Va., along with 2022 alumni Laura Midkiff of Westminster, Md., Liz Mince of Street, Md., and Leah Wilder of Mount Airy, Md., as well as McDaniel seniors Kate Cramer of Glen Rock, Pa., and Juliana Stolkovitch of Littlestown, Pa.
Event Contact
McDaniel College
410-857-2595
Event Details
Tuesday, November 8, 2022, 10:00 AM – Friday, December 9, 2022, 4:00 PM
Free
Location
Add Event To Your Calendar