Mount Vernon Place Plein Air Art Show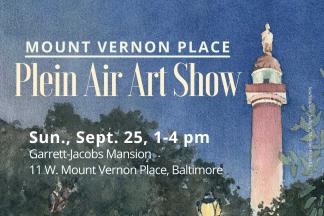 View and purchase paintings of one of America's most beautiful urban spaces-- Baltimore's Mount Vernon Place!
Throughout the spring and summer, members of the Mid-Atlantic Plein Air Painters Association (MAPAPA) have been setting up their canvases around Baltimore's Washington Monument. Join us on September 25th at the historic Garrett-Jacobs Mansion for a wine and cheese reception where you can meet the artists, view their work, and purchase a masterpiece to take home.
Tickets are $20 for pre-registration or $25 at the door, include entrance to the event along with wine and cheese refreshments and tours of the magnificent mansion.
Funds raised through this event will help the Garrett-Jacobs Mansion Endowment Fund (GJMEF) in our efforts to preserve the architectural and historical character of the mansion. Thanks to our cohosts—Baltimore Heritage, the Mount Vernon Place Conservancy, and The Engineers Club—and to our sponsors: City House; The Mount Vernon Club; William G. Baker, Jr. Memorial Fund, creator of the Baker Artist Portfolios, www.BakerArtist.org; 14 West; WBCM; Robert M. Quilter Fine Arts; Hotel Indigo; and Murphy & Dittenhafer.
Event Contact
(410) 539-6914
Event Details
Sunday, September 25, 2022, 1:00 AM – 4:00 PM
Location
Add Event To Your Calendar