International Edgar Allan Poe Festival and Awards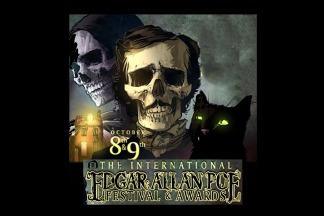 Poe Baltimore will host the fifth annual International Edgar Allan Poe Festival and Awards (Poe Fest International) with IN-PERSON and virtual events, October 8th- 9th, 2022, featuring vendors, performances, tours, and The Black Cat Ball. This year's events commemorate the 173rd anniversary of Edgar Allan Poe's death.*
The FREE festival will take place October 8 & 9, 2022, 11:00 AM – 4:00 PM, open to the public, at Poe Park, in front of Poe House, at 203 N. Amity St., Baltimore. Special events are ticketed, including "The Death Weekend Poe Places Bus Tour" of historic sites in Baltimore associated with Poe's Death, the "Black Cat Ball at Westminster Hall: Til Death Do We Start" VIP packages include a special ceremony to renew or take your eternal vows in the famed Westminster Catacombs, and the "Edgar & Virginia Poe Death Exhibit" at Westminster Hall that explores the hidden history of Virginia Poe, the beloved wife and muse of Edgar Allan Poe. For those who cannot attend in person, the festival will feature several virtual programs and tours, live-streamed via Facebook Live @PoeBaltimore and YouTube.
The in-person festival will feature Edgar Allan Poe-themed performances, vendors, readings, music, and art workshops as well as food, drinks and books. Programming includes presentations by The Edgar Allan Poe House & Museum (Baltimore), The Poe Museum (Richmond, VA), The Poe Cottage (Bronx, NYC), The Poe Studies Association, The Edgar Allan Poe Society of Baltimore and Westminster Hall & Burying Ground. In addition, the winners of the 2022 Saturday "Visiter" Awards will be announced at the Black Cat Ball.
A complete schedule of festival events and ticket information will be regularly updated at https://poefestinternational.com/festival-program. Direct ticket sales: http://poefestinternational.eventbrite.com.
Highlights and Special Event Information:
In-person Festival: The in-person International Edgar Allan Poe Festival & Awards will include the return of the RavenBeer Garden. Family-friendly art demonstrations, readings, musical performances, and even a coffin-building workshop will return to the festival. Poe-themed costumes are encouraged!
Special Event: The Poe Places Death Weekend Bus Tour via Rent-a-Tour is a two-hour tour that takes ticket holders to four Baltimore Poe sites including a special funeral "viewing", October 8 & 9 2022. $59 pp.This ticket option includes the new "Virginia Poe Bicentennial" exhibit!
Special Event: The Black Cat Ball: Til Death Do We Start is the official party of Poe Fest International, themed this year as an Edgar and Virginia Poe Wedding Masquerade Ball and Gothic Red Carpet and will take place October 8, 2022, 7:00 – 11:00 PM, at Westminster Hall, 519 W. Fayette Street. Tickets include a reception and private viewing of the Edgar & Virginia Poe Death Exhibit, a grave-site Cognac toast to Edgar Allan Poe and a program that includes the announcement of the winners of the 2022 Saturday "Visiter" Awards, presented by author of the bestselling novel, Mrs. Poe, Lynn Cullen; $135 to $200 pp
Virtual Festival: Passes are available for a flat $25, and include streaming content, virtual tours and trivia. Passes are good for both days of the festival.
Proceeds from The International Edgar Allan Poe Festival and Awards (Poe Fest International) will benefit The Edgar Allan Poe House & Museum and Poe Baltimore, a non-profit organization. While the festival is free, donations are encouraged: http://www.poeinbaltimore.org/support/.
Event Contact
Enrica Jang
(410) 462-1763
Event Details
Repeats daily 1 times.
Add Event To Your Calendar