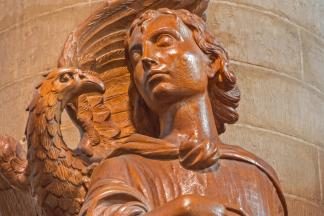 Celebrate Bach in Baltimore's 35th Anniversary! Join Maestro T. Herbert Dimmock, the Bach in Baltimore Choir and Orchestra, and soprano, alto, tenor, and bass soloists for Bach's towering masterpiece: St. John Passion. In Bach's setting of the Passion according to St. John, we find all the musical forms of the high Baroque being utilized—full of pageantry, drama, color, and wonder.
Since the first century A.D., Christians have ritually read and reenacted the Passion of Christ, the story of his suffering and death on the cross. Through the Medieval and Renaissance periods, the music which accompanied the Passion story became increasingly complex, as an elaborate, contrapuntal style replaced plainsong chants. Even through the tumult of the Protestant Reformation, these rituals maintained a central role in Christian worship, with the reformer Martin Luther noting that "It was not without reason that the fathers and prophets wanted nothing else to be associated as closely with the Word of God as music."
It comes as no surprise that Bach took this heritage of setting the passion story to musical heights of expression heretofore undreamed of. On top of his inspired music, he imbued his passions with powerful emotional reactions to the story as it unfolded and added theological insights worthy of the greatest preachers the world has ever known.
Join us in celebrating our 35th Anniversary of making beautiful music for our community.
Event Contact
Kristen LePine
Event Details
Sunday, April 2, 2023, 4:00 PM – 6:00 PM
410-941-9262
1
Offer good
03/26/23

to

04/02/23
Redemption Instructions
Use Promo Code GBCA40 at checkout for half-price ticket. Please use this promotion on adult tickets only.
Location
Add Event To Your Calendar