Dynamic Organ & Brass: Saint-Saëns & Gabrieli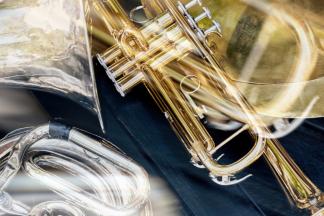 Camille Saint-Saëns and Giovanni Gabrieli, two dynamic composers, are separated in time by over two hundred years. Both straddled two distinct musical eras that marked both of their prodigious outpourings. Saint-Saëns, a child music prodigy, was a great admirer of the modern music of his day. His orchestral works pay much homage to the giants that came before him including Bach, Handel, Haydn, and Mozart. He composed his Symphony No. 3—a majestic showstopper, popularly known as the "Organ Symphony"—in 1886 at the artistic peak of his career. It would be his last symphony. About the work, Saint-Saëns wrote, "I gave everything to it I was able to give." Bach in Baltimore's performance will be a powerful arrangement of this work for brass ensemble and organ. Find out why Saint-Saëns famously said: "What I have here accomplished I will never achieve again." Like Saint-Saëns, Gabrieli also straddled two eras: the end of the Renaissance and the beginning of the Baroque. His polytonal brass works are beloved by modern brass players for their ambitious and grandiose sound fit to fill the multiple choir lofts at Venice's St. Mark's Basilica. You won't want to miss this vibrant pairing of colorful, pulsating music from across the ages, recreated with virtuoso brass stationed all around the performance site.
Event Contact
Kristen Cannito
Event Details
Sunday, April 16, 2023, 4:00 PM – 6:00 PM
410-941-9262
1
Offer good
04/09/23

to

04/16/23
Redemption Instructions
Use Promo Code GBCA33 at checkout for half-price ticket. Please use this promotion on adult tickets only.
Location
Add Event To Your Calendar