Musical Lions: Bach, Handel & Mozart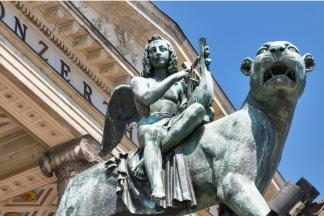 March will come roaring in like a lion with a trio of lively instrumental works by Bach, Handel, and Mozart. The concert opens with Bach's Cantata 112: Der Herr ist mein Getreuer Hirt (The Lord is my faithful Shepherd), featuring several of our talented "Emerging Artists." The program also includes Handel's enchanting Water Music, Suite No. 1. When it was first performed on the River Thames for King George I, Londoners covered the river in boats and barges to experience Handel's newest work with the king. King George I was so pleased with the composition, he had his orchestra repeat it three times. The concert concludes with Mozart's virtuosic Bassoon Concerto, featuring soloist Terry B. Ewell. Mozart's composition is the most celebrated work in the whole bassoon repertory. This concert will leave you revitalized and ready for the dawn of spring.
Event Contact
Kristen LePine
Event Details
Sunday, March 5, 2023, 4:00 PM – 6:00 PM
410-941-9262
1
Offer good
02/28/23

to

03/05/23
Redemption Instructions
Use Promo Code GBCA33 at checkout for half-price ticket. Please use this promotion on adult tickets only.
Location
Add Event To Your Calendar