Season for Psalms: Bernstein Chichester Psalms & More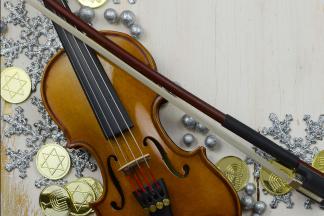 The poetry of the Psalms evokes beauty, contemplation, and affirmation. For our Holiday Concert, we invite you to discover and delight in a selection of psalms by eight distinguished composers spanning 500 years of history. The oldest work on the program comes from the Renaissance: Giovanni Gabrieli's most famous work, In Ecclecsiis, is a polychoral wonder. The youngest composer featured is 21st-century composer Cantor Ben Ellerin with a world premiere performance of his newest composition. Enjoy a selection of psalms from the great German Baroque composer and organist Heinrich Schütz; Austrian Romantic era composer Franz Schubert; American contemporary pop and folk-jazz singer/songwriter Bobby McFerrin; and beloved British contemporary composer John Rutter. At the center of the program is Leonard Bernstein's 20th-century polytonal masterpiece Chichester Psalms. Composed in 1963, the work specifically combines text from different cultural and choral traditions to illustrate the power and possibility of peace and brotherhood, a message that resonates deeply no matter the season or reasons for celebrating it!
Event Contact
Kristen LePine
Event Details
Sunday, December 4, 2022, 4:00 PM – 6:00 PM
410-941-9262
1
Offer good
11/27/22

to

12/04/22
Redemption Instructions
Use Promo Code GBCA33 at checkout for half-price ticket. Please use this promotion on adult tickets only.
Location
Add Event To Your Calendar