Casey Cares Foundation's 19th Annual Golf Tournament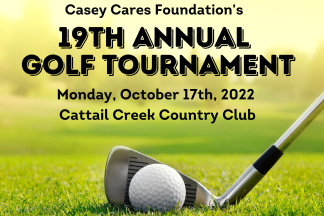 The Casey Cares Foundation will host the 19th Annual Golf Tournament on Monday, October 17, 2022, at the Cattail Creek Country Club. The outing includes a light lunch, raffles, prizes, and more. The evening will end with a cocktail reception. Companies are encouraged to register as foursomes and individuals are allowed. Not only will it be a fun day of friendly competition, but the event will also raise much-needed funding for the Casey Cares Foundation, which provides ongoing and uplifting programs for families with critically ill kids.
The 18-hole Cattail Creek Golf Course takes golfers through magnificent rock walls, wooded areas, and open tree lined areas and ponds.
Event Contact
Jamie Snyder
4435680064
Event Details
Monday, October 17, 2022, 10:00 AM – 5:00 PM
Location
Add Event To Your Calendar