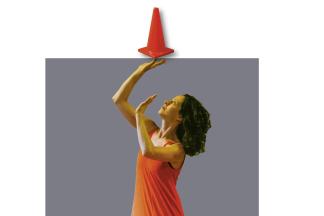 AntiCone
By Natasha Mirny and Tia Shearer
Happy Theater
June 23 – 26
AntiCone, inspired by Sophocles' Antigone, is the largely wordless story of an immigrant who is put to work building a wall against her country of origin (and, therefore, her brothers), under the dangerous eye of new leader, Creon, and against the pull of her ancient namesake.
Scored by the evocative and visceral original music of Alexander Nikitin, the play combines physical theatre, clowning, and audience interaction, with unique, powerful dances choreographed and performed by Moscow-trained Natasha Mirny as Antigone. Tia Shearer, who has been called one of DC's "most versatile actors" (BroadwayWorld) and a "straight up chameleon" (DC Theatre Scene), plays the five characters surrounding Antigone, including Creon, her brother, and the Chorus. The team is rounded out by 25 bright orange traffic cones.
AUDIENCES HAVE SAID:
"BRILLIANT, MOVING THEATER ABOUT WHAT KEEPS US APART AND CAN BRING US TOGETHER"
"THIS IS A MUST SEE PERFORMANCE. IT IS INNOVATIVE, CONCEPTUAL, VISUAL, PHYSICAL, MUSICAL, POETIC AND PROVOCATIVE. EXQUISITELY EXECUTED! "
"ANTICONE WAS A GIFT TO THE WORLD"
"I WAS FILLED AND MOVED WITH EMOTION THROUGHOUT"
"LOVELY, FUNNY COMBINATION OF CLOWNING AND MODERN DANCE. YOU THINK YOU'VE GOT IT FIGURED OUT AND THEN, HALFWAY THROUGH, IT BECOMES SOMETHING A GREAT DEAL MORE MEANINGFUL"
"IF YOU WANT THEATRE THAT SITS IN YOUR THROAT AND ON YOUR HEART, SEE THIS PLAY."
COVID Policy:
All patrons must be fully vaccinated against COVID-19.
Please bring a proof of vaccination (either the original vaccination card, or a photo of the card) along with a valid I.D.
All guests must wear masks while inside Theatre Project.
Seating will be limited.
If you have any COVID-associated symptoms the day of the show, please do not attend.
Showtimes:
June 23 @ 8pm (Pay-What-You-Can)
June 24 @ 8pm
June 25 @ 3pm
June 25 @ 8pm
June 26 @ 3pm
June 26 @ 6pm
Tickets:
General Admission: $25
Senior/Artist/Military: $20
Student: $15
June 23: Pay-What-You-Can
Event Contact
410-752-8558
Event Details
Thursday, June 23, 2022, 8:00 PM – 9:30 PM
Friday, June 24, 2022, 8:00 PM – 9:30 PM
Saturday, June 25, 2022, 3:00 PM – 4:30 PM
Saturday, June 25, 2022, 8:00 PM – 9:30 PM
Sunday, June 26, 2022, 3:00 PM – 4:30 PM
Sunday, June 26, 2022, 6:00 PM – 7:30 PM
410-752-8558
1
Offer good
04/20/22

to

06/23/22
Redemption Instructions
June 23 is Pay-What-You-Can. When purchasing on-line, select June 23 and the amount you wish to pay.
Location
Add Event To Your Calendar