Hannah Mayer and Friends Series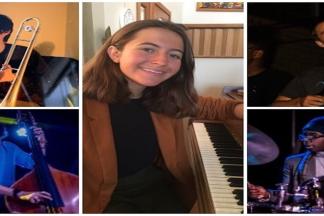 Hannah Mayer and Friends
Hannah Mayer - piano
Jett Lim - trombone
Charlie Reichert Powell - guitar
Aidan B. Taylor - bass
Koleby Royston - drums
Hannah Mayer leads this group of talented musicians from the Peabody Institute jazz program to perform an exciting show featuring original compositions and the music of Stephen Sondheim.
Hannah Mayer is a 19-year-old pianist and composer from the San Francisco Bay Area. In high school, Hannah was a member of Carnegie Hall's NYO Jazz and the SFJAZZ High School All-Stars, and was a YoungArts winner in jazz piano and jazz composition. Hannah enjoys musical theatre and in 2018 she was the composer and music director for a 30-minute musical adaptation of Ray Bradbury's "All Summer in a Day." She loves incorporating music from the Broadway repertoire into an improvisational context. Hannah has worked as an accompanist for the Diablo Ballet Company, and teaches private piano lessons to middle school students.

Jett Lim is a trombonist from the San Francisco Bay Area. During high school, he was a part of the SFJAZZ high school all-stars and toured Europe and Asia with NYO Jazz, led by Sean Jones. Jett finds interest in many genres of music from jazz, hip hop, to J-pop, which led him to work with other electronic producers and the Soulful Symphony led by Darin Atwater.

Charlie Reichert Powell is a guitarist, producer, and composer based in Baltimore. He is embedded in the jazz and RnB scenes, explores free improvisation in various settings, and works regularly as a freelance session musician. As a producer, aside from his solo work, he works in collaboration with a wide variety of musicians, pivoting between pop, rap, alternative, J-pop, and more experimental work on top of freelance commercial work. He has written extensively for his own group and small-group jazz settings as well as writing acousmatic/ electroacoustic works and big band charts.

Aidan B. Taylor is a dual degree student majoring in Jazz Bass Performance and Recording Arts and Sound Engineering. He studies under Kris Funn and pianist Stephen Scott. He is a five-time Downbeat Magazine Student Music Award winner, a 2020 and 2021 YoungArts Winner for Jazz Bass, and was selected for the 2021 Florida All-State Jazz Band. Also in 2021, his small ensemble was the winner of the Downbeat Student Music High School Small Ensemble Award and a finalist in the National Jazz Festival. His Big Band won a spot as a finalist in the 26th Essentially Ellington Competition and Festival, and the 13th Annual Mingus Festival. Last year, Aidan was chosen as the 2020 Young Artist of the Year for the Society for the Preservation of the Great American Songbook, and was selected as the bassist for the 2020 Jazz Band of America.

Koleby Royston is a 19-year old musician from Denver. Coming from a family of musicians, Royston found his love for drumming at age 15 when he attended the Jazz House Kids Summer Workshop in Montclair, New Jersey. He has worked alongside notable musicians ean Jones, Allison Miller, Mark Whitfield Jr., Tia Fuller, Mimi Jones, Josh Evans, Julius Tolentino, and others. Royston feels blessed to have had such opportunities, and hopes to continue improving his craft as a Black American Musician.
Series dates: Thurs, March 31 - Sun, April 24 - Tues, May 17
Streaming showtime: 7 pm ET/6 pm CT/5 pm MT/4 pm PT/12 am GMT
Admission: $20 / $10 full-time students with valid ID
Proof of COVID-19 vaccination required at door
In -person attendees receive a link to the recording to view for one week.
Streaming Cost: $10
The link will be revealed to live stream participants 15 minutes before the show
and will remain active for one week
Event Contact
Event Details
Thursday, March 31, 2022, 7:00 PM – 8:00 PM
Sunday, April 24, 2022, 7:00 PM – 8:00 PM
Tuesday, May 17, 2022, 7:00 PM – 8:00 PM
Location
Add Event To Your Calendar