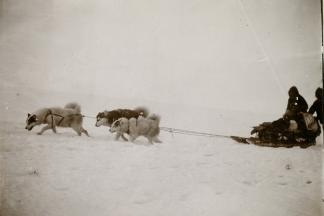 UMBC's Albin O. Kuhn Library Gallery presents North Pole Narratives: Photographs from the Wendorff Collection on Robert E. Peary, on display from February 14 through May 20.
At the turn of the twentieth century, an international race was under way to be the first to reach the geographic North Pole. On April 6, 1909, American explorer Robert E. Peary (1856–1920) claimed to have clenched the title. This exhibition revisits Peary's Arctic expeditions through photographs in UMBC's Wendorff Collection. Used to illustrate Peary's published accounts of his journey, the photographs bear his editing marks, revealing how the explorer shaped his own narrative of discovery. Analyzing these images against changing societal values and information uncovered since 1909 allows the images and events they depict to be viewed through a new lens.
This exhibition is presented concurrently with Louie Palu: Distant Early Warning.
Visitor Information
Admission is free.
Library Gallery hours:
Monday, Tuesday, Wednesday, Friday: 10 a.m. – 5 p.m.
Thursday: 10 a.m. – 7 p.m.
Saturday and Sunday: 12 p.m. – 5 p.m.
Please note: All visitors to UMBC, and to the Library Gallery, are required to wear a KN-95 mask or equivalent. Visitors may pick up free KN-95 masks at the Library Circulation Desk.
The presentation of this exhibition is supported by a project grant from the Baltimore County Commission on the Arts & Sciences and an arts program grant from the Maryland State Arts Council, an agency funded by the State of Maryland and the National Endowment for the Arts. Additional support comes from the Libby Kuhn Endowment Fund, as well as individual contributions.
Image: Robert E. Peary. Permanent monument erected at Cape Columbia to mark the point of departure and return of the North Pole sledge party. ca. 1909. Gelatin silver spring. The Photography Collections of the University of Maryland, Baltimore County (P78-118-087).
Event Contact
Event Details
Monday, February 14, 2022, 12:00 AM – Friday, May 20, 2022, 12:00 AM
Free
Location
Add Event To Your Calendar