Louie Palu: Distant Early Warning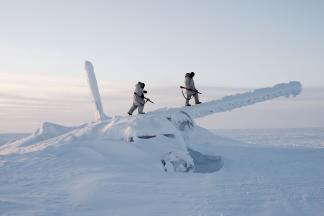 UMBC's Albin O. Kuhn Library Gallery presents Louie Palu: Distant Early Warning, on display from February 14 through May 20.
Distant Early Warning, a multi-year project (2015–2018) by Canadian/American photojournalist Louie Palu, provides a look at the evolving militarization in the North American Arctic driven by invented narratives and imagined threats. Now, decades after the end of the Cold War, debates have emerged over more efficient shipping routes, opportunities for resource extraction and the future of Arctic related to climate change. Along with the six other nations that encircle the region (Finland, Greenland (Denmark), Iceland, Norway, Russia, and Sweden), the United States and Canada are scrambling to assert and defend their claims over the territory. Meanwhile, Indigenous communities in the region are coming face to face with increased geo-political activity. This exhibition examines operations of power and bears witness to a culture of fear and hyper-preparedness in the Arctic, which remains one of the most daunting landscapes on the planet.
This exhibition is presented concurrently with North Pole Narratives: Photographs from the Wendorff Collection on Robert E. Peary.
Visitor Information:
Admission is free.
Library Gallery hours:
Monday, Tuesday, Wednesday, Friday: 10 a.m. – 5 p.m.
Thursday: 10 a.m. – 7 p.m.
Saturday and Sunday: 12 p.m. – 5 p.m.
Please visit here for directions and parking information.
Please note: All visitors to UMBC, and to the Library Gallery, are required to wear a KN-95 mask or equivalent. Visitors may pick up free KN-95 masks at the Library Circulation Desk.
Public Programs
The artist will give a public talk on his work on February 24 at 5 p.m. Additional details will be announced.
A panel discussion will be announced.
Louie Palu: Distant Early Warning is presented concurrently in the Library Gallery with the exhibition North Pole Narratives: Photographs from the Wendorff Collection on Robert E. Peary.
Featured image: On reconnaissance outside Resolute Bay on Cornwallis Island, Nunavut, Canada Arctic Operations Advisors walk on the wreckage of an airplane in temperatures below minus 50 degrees Celsius (-58 F). Photo © Louie Palu. Strictly for use related to the Distant Early Warning exhibition at UMBC. No other use is permitted.
Palu's work was supported by funding from the John Guggenheim Memorial Foundation, National Geographic Magazine, and Pulitzer Center. The presentation of this exhibition is supported by a project grant from the Baltimore County Commission on the Arts & Sciences and an arts program grant from the Maryland State Arts Council, an agency funded by the State of Maryland and the National Endowment for the Arts. Additional support comes from the Libby Kuhn Endowment Fund, as well as individual contributions.
Event Contact
Event Details
Monday, February 14, 2022, 12:00 AM – Friday, May 20, 2022, 12:00 AM
Free
Location
Add Event To Your Calendar