In Search of the Fantasia FREE Zoom Talk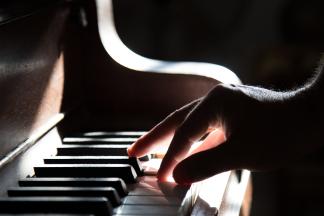 As a genre label, the "Fantasia" has attracted the interest of composers from the 16th century to the present. As a form rooted in improvisation and characterized by formal flexibility, defining the "fantasia" proves to be no simple task. On his February 27 recital, the pianist Pierre-Laurent Aimard will offer a glimpse into the extraordinary stylistic range of the "fantasia" with a program of Sweelinck, C.P.E. Bach, Mozart, Beethoven, and George Benjamin, among others. In preparation for what promises to be a fascinating program spanning nearly 400 years worth of music, this presentation will offer listeners an introduction to the elusive genre of the "fantasia." We will consider the history of the genre not simply as an inventory of works and composers but as a form that is grounded in musical practice itself.
Hosted by Dr. Richard Giarusso, the Dean's Fellow, Associate Professor, and Chair of Musicology at the Johns Hopkins Peabody Institute. He is a versatile musician with practical and scholarly experience in a wide range of repertoire. After undergraduate study in music and English at Williams College, where he worked closely with Kenneth Roberts, he earned the PhD in historical musicology from Harvard University, completing his dissertation under the supervision of Reinhold Brinkmann. He joined the musicology faculty at Peabody in 2007.
Event Contact
Cynthia Fischer
410 997-2324
Event Details
Tuesday, February 22, 2022, 7:30 PM – 8:30 PM
410 997-2324
Free
Add Event To Your Calendar