Spectrum: 2022 Visual Arts Faculty Exhibition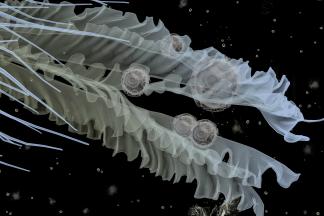 UMBC's Center for Art, Design and Visual Culture (CADVC) presents Spectrum: 2022 Visual Arts Faculty Exhibition, featuring work by UMBC faculty Lynn Cazabon, Kathy Marmor, and Lisa Moren, opening on February 3 and continuing through March 12.
Lynn Cazabon, professor of visual arts, is showing excerpts from two projects: Losing Winter, a participatory, site-specific, multimedia project that explores the personal and cultural losses associated with the climate crisis; and Diluvian, a series of cameraless photographic prints that reflect on the contrasting decay rates of manufactured electronics and organic materials.
Kathy Marmor, associate professor of visual arts, exhibits two series of works: Philomela's Thread: a common place book (2021), and Skeins (2021) from her collaborative project Beyond Midlife: What's Lost, What's Gained. These works engender an interplay between craft and the commonplace book to focus on women who are at or beyond midlife and their accrual of self-defining life experiences.
Lisa Moren, professor of visual arts, will exhibit two projects. Under the Bay is an augmented reality project with marine biologist Tsvetan Bachvaroff and software engineer Marc Olano. The AR uses live data streaming in from the Chesapeake Bay, where the water itself influences meandering stories, animation, and original music by Dan Deacon. The AR project is supplemented by a podcast, objects, photography, a wall of wonders, video, and animation. The second project is also a collaboration with Tsvetan Bachvaroff featuring a bioluminescent tank, entitled What Is the Shape of Water?, where millions of microbes (dinoflagellates) describe the shape of water by lighting up when visitors speak to the ancient critters.
A Closing Reception will be held on Thursday, March 10, from 5 to 7 p.m.
The three artists will present a series of online lectures about their work:
Lynn Cazabon — Tuesday, February 15, 4 p.m.
Lisa Moren — Thursday, February 17, 4 p.m.
Kathy Marmor — Wednesday, February 23, 4 p.m.
Visitor Information
Admission is free. The CADVC is open Tuesday through Saturday, 10 a.m. – 5 p.m.
Please visit here for directions and parking information.
Please note: All visitors to UMBC, and to the CADVC, are required to wear a KN-95 mask or equivalent. Visitors may pick up free KN-95 masks at the CADVC desk when entering the gallery.
Image: Lisa Moren, still from Under the Bay, from augmented reality work by Lisa Moren with Tsvetan Bachvaroff, 2021.
Event Contact
Symmes Gardner
410-455-3188
Event Details
Repeats weekly Tuesday and Wednesday and Thursday and Friday and Saturday -- until Saturday March 12, 2022.
Free
Location
Add Event To Your Calendar