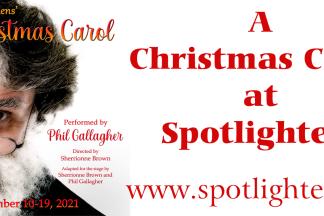 Dickens' A Christmas Carol ... a one man show
written by Charles Dickens
edited & adapted for the stage by Sherrionne Brown and Phil Gallagher
directed by Sherrionne Brown
stage managed by
Performance Dates: Fri: Dec 10, 17 - 8:00pm
Sat: Dec 11, 18 - 8:00pm
Sun: Dec 12, 19 - 2:00pm
Opening Night Reception following the Fri, Dec 10th performance
Talk Back with Cast and Director, following the Sun, Dec 12th performance
TEN SPOT Thursday - Dec 16 - 8:00pm (This performance, all tickets $10)
Join us for limited engagement of Charles Dickens' A CHRISTMAS CAROL - in the style that Dickens himself performed the work, when he toured the United States in the 1860s.
"Bah! Humbug!"
Is there a more famous response to being wished "Merry Christmas!"?
Scrooge, Tiny Tim, the trio of Christmas ghosts, and the story of what happens when a bitter old man is given one last chance at redemption, are as well known as any of Dickens' characters. They've been portrayed in films and on TV around the world and now you can meet them all, live on stage in Spotlighters' captivating, one-man adaptation.
Using only Dickens' inimitable language, Phil Gallagher's performance will thrill and chill audiences of all ages. With minimal props and costume, Gallagher portrays all these much loved characters and breathes new life into a story that is as moving, relevant, and redemptive as it was when first written over 170 years ago.
Rehearsal of A CHRISTMAS CAROL --- with Phil Gallagher Ebenezer Scrooge is visited by the Ghost of Jacob Marley ... www.spotlighters.org
Event Contact
Spotlighters Theatre
Event Details
Repeats weekly Thursday and Friday and Saturday -- until Sunday December 19, 2021.
Repeats weekly Sunday -- until Sunday December 19, 2021.
Location
Add Event To Your Calendar