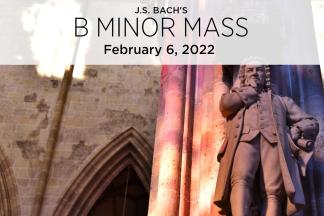 Join T. Herbert Dimmock, four superb vocal soloists, and the Bach in Baltimore Choir and Orchestra in the performance of Bach's magnum opus, the B Minor Mass. This work represents Bach's lifelong and tireless artistry as a composer and musician of the highest caliber. It is a grand synthesis of his every musical innovation and contribution. Bach began the B Minor Mass early in his career and didn't finish it until the end of his life when he had already gone blind. As a result, Bach never got a chance to hear a complete performance of his masterpiece that weaves together conventions common to both Lutheran and Catholic masses. Don't miss your chance to experience Bach's crown jewel for yourself!
Guest soloists:
Katherine Vetter Cain, Soprano
Claire Galloway, Soprano II/Alto
Matthew Loyal-Smith, Tenor
William Marshall, Bass
Event Contact
Kristen LePine
14109419262
Event Details
Sunday, February 6, 2022, 4:00 PM – 6:00 PM
14109419262
1
Offer good
01/31/22

to

02/06/22
Redemption Instructions
Use Promo Code GBCA40 at checkout for a half-price ticket. Please use this promotion on adult tickets only. This promotion is only good for in-person tickets.
Location
Add Event To Your Calendar