Candlelight Choral Concert - The Spire Series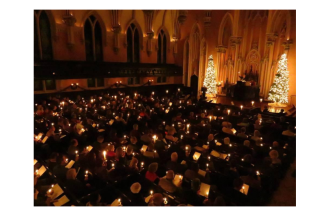 Our beloved CANDLELIGHT CONCERT with the First & Franklin Sanctuary Choir and Handbell Choir.
Jacqueline Pollauf, harp
Jason Kissel, conductor
This program will feature:
• Britten's "A New Year Carol," "Hymn to the Virgin," and portions of "A Ceremony of Carols"
• Saint-Saëns: Trio from Christmas Oratorio
• Choral music of Elizabeth Poston, Carl Schalk, John Goldsmith and Clarence Dickinson
This is a free event but we will be taking donations. Suggesting $10 per person.
Shared by a previous attendee: "The spirit of Christmas is felt during this special service for sure, and especially when the congregation is each holding their lit candle, perhaps with the hope that light has again filled the world."
NOTE - COVID POLICY IN EFFECT!
1) Proof of full vaccination will be required for entry to our church. Please have your cards available at the door when you arrive.
2) Masks are mandatory and must cover your nose and mouth at all times.
3) We will allow open seating in our church for this event. There will not be tickets or reserved seating. There will not be any access to the balconies except for the choir members.
4) Due to the risk of blowing out candles in a closed space, we have decided to not use lit candles this year.
5) Receptions have been suspended until further notice.
6) ****** If you are experiencing ANY symptoms of ANY illness, please do not attend and risk infecting or exposing others. ***** thank you!
Event Contact
Beth Seeley
410-728-5545
Event Details
Sunday, December 12, 2021, 4:00 PM – 5:15 PM
410-728-5545
Free
Location
Add Event To Your Calendar