An Evening with Steve Gunn & Jeff Parker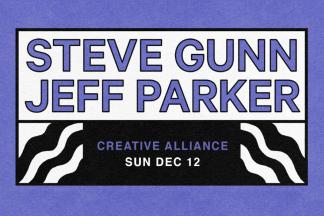 Two solo sets from two guitarists of note. This season's most inspired pairings...
ABOUT STEVE GUNN
For over a decade, guitarist/vocalist Steve Gunn has been one of American music's most pivotal figures - conjuring immersive and psychedelic sonic landscapes both live and on record, releasing revered solo albums ranking high on in-the-know end of year lists, alongside exploratory collaborations with artists as diverse as Mike Cooper, Kurt Vile, and Michael Chapman (whose most recent studio album he produced).
Gunn is known for telling other people's stories, but on his breakthrough fourth album, The Unseen In Between, he explores his own emotional landscapes with his most complex, fully realized songs to date. The lyrics evoke voyages, tempests (actual and emotional), and a rich cast of characters met along the way—the work of an artist finding a place of calm in the midst of a storm. Produced by frequent collaborator James Elkington and engineered by Daniel Schlett, the immaculately recorded Unseen forces a reassessment of Gunn's standing in the pantheon of the era's great songwriters. Getting to The Unseen In Between itself was not easy for Gunn.
ABOUT JEFF PARKER
"I'm always looking for ways to be surprised," says composer and multi-instrumentalist Jeff Parker as he explains the process, and the thinking, behind his new album, Suite for Max Brown, released via a new partnership between the Chicago–based label International Anthem and Nonesuch Records. "If I sit down at the piano or with my guitar, with staff paper and a pencil, I'm eventually going to fall into writing patterns, into things I already know. So, when I make music, that's what I'm trying to get away from—the things that I know."
Parker himself is known to many fans as the longtime guitarist for the Chicago–based quintet Tortoise, one of the most critically revered, sonically adventurous groups to emerge from the American indie scene of the early nineties. The band's often hypnotic, largely instrumental sound eludes easy definition, drawing freely from rock, jazz, electronic, and avant-garde music, and it has garnered a large following over the course of nearly thirty years. Aside from recording and touring with Tortoise, Parker has worked as a side man with many jazz greats, including Nonesuch labelmate Joshua Redman on his 2005 Momentum album; as a studio collaborator with other composer-musicians, including Brian Blade, Meshell Ndegeocello, and fellow International Anthem artists Makaya McCraven and Rob Mazurek; and as a solo artist.
Event Contact
Event Details
Sunday, December 12, 2021, 7:30 PM – 9:30 PM
Location
Add Event To Your Calendar