Laraaji w/ William Cashion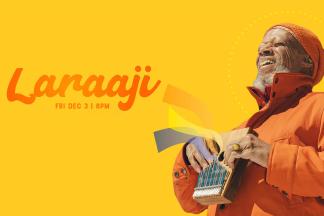 Meditative celestial music by an artist who brings an abundance of joy to his performative sound baths.
------------------------------------------------------------
Laraaji is a musician, mystic and laughter meditation practitioner based in New York City.
He began playing music on the streets in the 1970s, improvising trance-inducing jams on a modified autoharp processed through various electronic effects. Brian Eno saw him playing one night in Washington Square Park and invited him to record an album for his seminal Ambient series (Ambient 3: Day Of Radiance, released 1980). Laraaji went on to release a prolific series of albums for a wide variety of labels, many of which he recorded himself at home and sold as cassettes during his street performances.
In recent years he has had his career celebrated extensively, with two All Saints/Warp retrospectives Celestial Music 1970–2011 and Two Sides of Laraaji – as well as reissues on Glitterbeat and Leaving Records/Stone Throw. He has also collaborated with a new generation of underground musicians such as Sun Araw, their new LP Professional Sunflow (Superior Viaduct) being the fruit of the live shows they played together in 2014.
------------------------------------------------------------
William Cashion is best known as the bassist for Future Islands, one of the most formidable acts in indie rock. After making a splash with their 2014 performance on The Late Show with David Letterman, their anthemic brand of new wave has enchanted audiences at shows and festivals across the globe. He's shaped their sound from the beginning, crafting bass lines that cut through thick curtains of euphoric synths. Now Cashion is striking out on his own, making a collection of meditative ambient pieces that take after Brian Eno, Daniel Lanois, Robin Guthrie, and Suzanne Ciani.
Event Contact
Event Details
Friday, December 3, 2021, 8:00 PM – 9:30 PM
Location
Add Event To Your Calendar