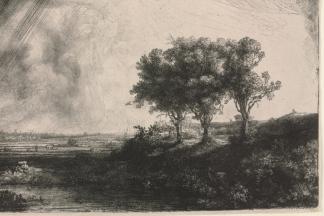 Rembrandt van Rijn (1606–1669, Netherlands) is universally acknowledged as one of history's greatest etchers, uniquely manipulating the etching needle and ink to create contemplative and affecting prints that have engaged viewers across centuries. His influence on the history of Western printmaking is foundational, especially for printmakers of the Etching Revival (1850–1930), such as Jean-Baptiste-Camille Corot, Édouard Manet, James A. M. Whistler, Mary Cassatt, and Mary Nimmo Moran. For these artists, Rembrandt's prints provided a touchstone for translating etching into a medium for the modern aesthetic. This exhibition debuts in the new Nancy Dorman and Stanley Mazaroff Center for the Study of Prints, Drawings and Photographs, connecting extraordinary works by the Dutch master and European and American graphic artists of the 19th and 20th centuries in their potential to convey the interior and exterior worlds through print.
Event Contact
Sarah Pedroni
14435731700
Event Details
Wednesday, January 26, 2022, 10:00 AM – 5:00 PM
Repeats weekly Sunday and Wednesday and Thursday and Friday and Saturday -- until Sunday April 10, 2022 -- except Saturday December 25, 2021, Saturday January 1, 2022.
Free
Location
Add Event To Your Calendar