Greg Fletcher: Destined to Create Art (Opening Reception)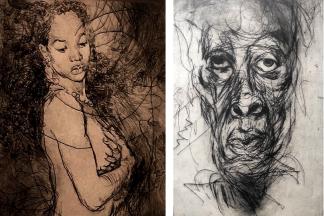 Acclaimed painter and printmaker Greg Fletcher presents a solo exhibition of monoprints and drypoints created during the pandemic at Ink Spot Press. A native of Baltimore, Fletcher has been transforming the stories, memories, and figures of this city into his evocative artwork for decades.
The show runs December 5, 2021 – January 31, 2022. Gallery hours are Saturdays 1:00 p.m. - 5:00 p.m. and by appointment. For more information, contact [email protected].
Event Contact
Ian Jackson
4437981167
Event Details
Sunday, December 5, 2021, 11:00 AM – 4:00 PM
Free
Location
Add Event To Your Calendar