Dance & Bmore Elder Ensemble Performance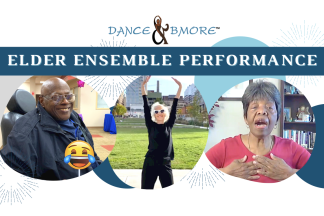 You're invited to a FREE performance with the Dance & Bmore Elder Ensemble! Songs, dance, and theatrics created and performed by older adults.
Date: Wed, Oct 27th
Time: 1 - 2PM
Location: Waxter Center, 1000 Cathedral Street, Baltimore, MD 21201
RSVP Here: https://forms.gle/hsUmyhCv4sq5tAvv6
The Elder Ensemble Series is brought to you by Free Fall Baltimore and Baltimore Office of Promotion and the Arts.
Event Contact
Dance & Bmore
410.871.8322
Event Details
Wednesday, October 27, 2021, 1:00 PM – 2:00 PM
410.871.8322
Free
Location
Add Event To Your Calendar