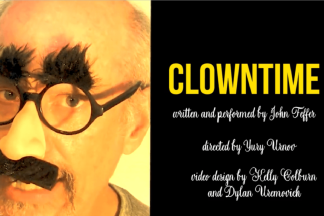 Clowntime
By John Feffer
October 1 - 3
Imagine a society where money, power, and sex appeal can't help you get ahead in life. The only way up the social ladder is…
Your sense of humor.
The main character of Clowntime is born without a single funny bone in his body. Yet somehow he manages to overcome his dismal prospects to work for the president of the United States, lead a revolution, and save the world from destruction.
Written and performed by John Feffer and directed by Yury Urnov, Clowntime introduces you to an alternative universe that is just one joke away from ours. George Orwell warned of a future when a boot stamps on a human face—forever. Inspired by Comedy Central's Daily Show, the rise of comedian-leaders like Ukraine's Volodymyr Zelensky, and the cruel buffoonery of Donald Trump and Boris Johnson, Clowntime offers an even more terrifying vision of the future: a cream pie striking a human face forever.
Clowntime features 10 supporting actors — Dylan Arredondo, Molly Cohen, Michael Crowley, Rae Anna Hample, Jarod Hanson, Jay Herzog, Tatiana Karpekina, Morgan Marsden, Brandice Thompson, and Dylan Uremovich — in video projections designed by Kelly Colburn and Dylan Uremovich. Lighting design is by Peter Leibold.
John Feffer has performed his work at the Capital Fringe, the New York Fringe, One Man Standing, and United Solo to much critical success. The Washington Post said that The Pundit (2013) "deflates its target with a sharp satiric pin." DC Theatre Scene said of Stuff (2016), "It's a lovely, wonderfully written, beautifully detailed, and resonant solo show that I can wholeheartedly recommend." And The Nation concluded, in 2019: "As entertainment that deftly mixes history, satire, pathos, and comedy, Next Stop: North Korea is an unqualified success." Feffer is a foreign policy expert at the Institute for Policy Studies and the author of the critically acclaimed Splinterlands trilogy of novels.
Yury Urnov is the lead artistic director of the Wilma Theater in Philadelphia for 2020-21. Born in Moscow, Russia, Yury graduated from the Russian Academy of Theater Art (GITIS) in 2000 with an MFA and since then has directed over 40 productions in his home country, Europe, and Africa. He is a company member of Woolly Mammoth Theater in DC and serves as associate director of the Center for International Theater Development in Baltimore.
COVID Policy:
All patrons must show proof of vaccination for COVID or a negative COVID test taken within 72 hours of the performance.
All guests must wear masks while inside Theatre Project.
Seating will be limited.
If you have any COVID-associated symptoms the day of the show, please do not attend.
Showtimes:
October 1 @ 8pm
October 2 @ 8pm
October 3 @ 3pm
Tickets:
General Admission: $25
Senior/Student: $20
CLOWNTIME Sneak Peek
Event Contact
410-752-8558
Event Details
Friday, October 1, 2021, 8:00 PM – 10:00 PM
Saturday, October 2, 2021, 8:00 PM – 10:00 PM
Sunday, October 3, 2021, 3:00 PM – 5:00 PM
410-752-8558
1
Offer good
09/28/21

to

10/03/21
Redemption Instructions
To purchase 1/2 price tickets for October 1 - 3, enter CLOWN1/2 in the "Promo Code" box after selecting your show and ticket level.
Location
Add Event To Your Calendar