Annet Couwenberg: Sewing Circles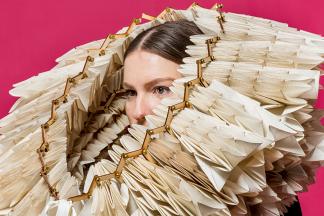 UMBC's Center for Art, Design and Visual Culture (CADVC) presents Annet Couwenberg: Sewing Circles, on display from September 30 through December 11. The exhibition presents an overview of ten years of cultural research, digital experimentation, and finished artifacts by Couwenberg, who uses lace as a primary material. Through her creations, the artist asks how traditional textile construction can be modified or transformed by adapting it to digital fabrication processes.
Couwenberg's technical experiments include 3D printing of multi-pronged connectors that are used to assemble umbrella-like structures, laser-cut buckram (cloth stiffened with glue) that produces dramatic origami "infinity" collars, and Y-shaped CNC-cut polyethylene that produces infinitely scalable lace forms. She has also explored Damask and Jacquard digital weavings. Some of Couwenberg's work that evokes fish scales and skeletons was inspired through exploration of digitized fish skeletons during a 2014 Smithsonian Artist Research Fellowship.
One particular work on display was created at UMBC in partnership with engineering students led by professor of mechanical engineering Tim Topoleski and with the assistance of software developer and engineer Alan Grover. Cleft (2016–21) is based on a Dutch ruffled collar as an example of a piece of clothing acting as both a constraint and a beautiful enhancement. Based on the concept of clothing as metaphor, the work examines the precarious balance between the constraints of social norms and our private desires. There is an intertwined yet conflictual relationship between immigration and citizenship, a state of anxiety that defines our contemporary condition. By putting the audience in charge as the "digital puppeteer," Cleft explores the untangling of this conflict between self-determination and dependency through the syntax of the body, and the boundaries of our social interactions through computer software, which translates our "movements."
Born in the Netherlands, Annet Couwenberg received MFA degrees from Cranbrook Academy of Art and Syracuse University. She received a Smithsonian Artist and Research Fellowship in 2014. Her work has been exhibited nationally and internationally, including at Gyeonggi MOMA (Ansan, Korea), HOMA Museum (Seoul, Korea), Museum of Arts and Design (NYC), Delaware Center for Contemporary Arts (Wilmington, DE), 28th Street Studio (NYC), Contemporary Museum (Baltimore), City Gallery (Atlanta), Decorative Arts Museum (Little Rock, AR), Textile Museum (Tilburg, Netherlands). Her work has been reviewed widely, including in Le Monde, Los Angeles Times, The Washington Post, New York Times, Christian Science Monitor, Baltimore Sun, The Atlanta Constitution, Philadelphia Inquirer, Fiberarts, Surface Design, The Journal of Cloth and Culture and Sculpture Magazine. Telos Art Publishing published a monograph on her work in 2003.
Public Programs
On Thursday, September 30, the CADVC will present an Opening Reception from 5 to 7 p.m.
On Tuesday, October 5 at 7 p.m., the Center for Innovation, Research and Creativity in the Arts (CIRCA) will present Cleft: An Art & Engineering Collaboration.
On Tuesday, November 9, the CADVC will present a conversation between Annet Couwenberg and Lori Ribeling(information forthcoming).
On Friday, December 11, the CADVC will present a Closing Event to celebrate the exhibition and the publication of an exhibition catalogue, Sewing Circles: Annet Couwenberg (information forthcoming).
Gallery Hours
The CADVC is open Tuesday through Saturday, 10 a.m. to 5 p.m. Admission is free.
Please visit here to see detailed directions and parking information.
UMBC is closely monitoring the COVID-19 situation and is dedicated to ensuring the health and safety of the university community. Please check either this site or the CADVC's site before visiting to ensure you're seeing the latest information on hours and accessibility.
Photo by Dan Meyers
Event Contact
Symmes Gardner
410-455-3188
Event Details
Repeats weekly Tuesday and Wednesday and Thursday and Friday and Saturday -- until Saturday December 11, 2021.
Free
Location
Add Event To Your Calendar