Francisco Loza Art Exhibition Celebrating Hispanic Heritage Month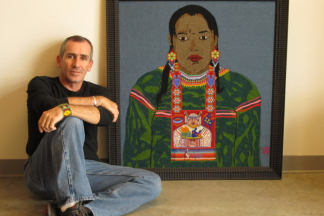 In honor of Hispanic Heritage Month, join us for an artist exhibition featuring Mexican artist, Francisco Loza. Francisco creates vibrant Art de Estambre or pressed yarn art. The Arte de Estambre technique is associated with the Huichol people, an indigenous group that lives in the central mountainous region of Mexico. Mr. Loza learned the technique from Huichol artisans and continues to collaborate with Huichol artisan-shamans in Mexico and the US. In his pressed yarn works, Francisco draws in both traditional and contemporary influences; many of his pieces depict Latin American and Mexican cultural traditions and community scenes.
The opening reception will be held on Thursday, September 16, 2021, 5pm - 7pm at the Keswick Wise & Well Center; please contact Rosalyn Stewart, 410-662-4380, to reserve a spot. All individuals in attendance must be screened upon entrance to the center and must wear a mask for the duration of your time on our campus.
Mr. Loza's artwork will be on exhibit through October 15, 2021.
Event Contact
Rosalyn Stewart
4437659941
Event Details
Thursday, September 16, 2021, 5:00 PM – 7:00 PM
4106624380
Free
Location
Add Event To Your Calendar