A Modern Influence: Henri Matisse, Etta Cone, and Baltimore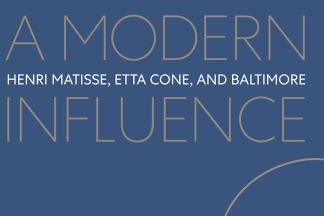 This exhibition explores the 43-year friendship between artist Henri Matisse (1869-1954) and Baltimore collector Etta Cone (1870-1949). More than 160 paintings, sculptures, prints, drawings, and illustrated books will provide new insights into the formation of the renowned Cone Collection, one of the greatest collections of modern art in the United States.
Etta, with her older sister Claribel (1864-1929), acquired more than 700 works by Matisse between 1906 and 1949 and bequeathed the majority of them to the BMA as part of a gift of 3,000 objects. Etta's dedication and curiosity ultimately lent the Cone collection its characteristic depth and breadth. After accepting Etta's invitation to visit her in Baltimore in 1930, Matisse realized he could have a major U.S. presence, and began creating and offering Etta specific works of art with the Cone collection in mind." Among these works are masterpieces such as The Yellow Dress (1929-31) and Large Reclining Nude (1935), rarely shown drawings, and the preliminary studies for his first illustrated book, Stephane Mallarmé's Poésies (1932). The works in the exhibition are generally arranged by acquisition date, demonstrating Cone's increasingly discerning eye for Matisse's work throughout their long partnership. A fully illustrated catalog accompanying the exhibition contains new scholarship on the formal, technical, and social aspects of the decades-long working partnership between artist and patron.
Event Contact
Event Details
Repeats weekly Sunday and Wednesday and Thursday and Friday and Saturday -- until Sunday January 2, 2022 -- except Thursday November 25, 2021, Saturday December 25, 2021, Saturday January 1, 2022.
443-573-1701
Location
Add Event To Your Calendar