Baltimore in the Roaring Twenties: The Emergence of a Modern Industrial City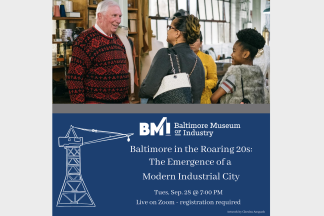 Join us virtually on September 28th at 7:00PM for an in-depth look at Baltimore in the Roaring 20s with Senior Museum Educator Jack Burkert. This program will be hosted over Zoom. Access provided after registration.
Few cities in the 1920's changed more than Baltimore. While the population enjoyed the amenities of a post-world war life, businesses were finding a perfect climate to locate operations in Baltimore. Proctor and Gamble, Western Electric, and Glenn L Martin were just three of many businesses that made major industrial commitments to the city and region. People were tuning into radios, driving their new automobiles, visiting vaudeville and motion picture theaters and watching air operations at Colgate field from the Riverside Electric Park. They rode the cars of the United Railways Company from thousands of new row houses built each year, or joined the exodus to suburbia at Roland Park or points beyond.
Register here: https://bit.ly/BMI20s
Event Contact
Michael Kuethe
Event Details
Tuesday, September 28, 2021, 7:00 PM – 8:00 PM
Free
Add Event To Your Calendar