Hip Hop, Social Activism and the Influence of Tupac and Afeni Shakur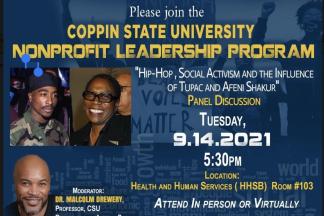 Welcome to Eagle Nation! You are invited to join the CSU Nonprofit Leadership Program for a panel discussion in honor of the life and legacy of Tupac and Afeni Shakur. On Tuesday, September 14, 2021, Dr. Malcolm Drewery, Professor in the Department of Applied Social and Political Sciences, will serve as the moderator for this timely discussion.
Members of the panel are innovative change agents, advocates and leaders who are passionate about making a difference in the lives of others and the community at large.
.

• Jamilah Barnes, Senior Director of Operations, Tupac Amaru Shakur Foundation
• Adam Jackson, Chief Executive Officer, Leadership of a Beautiful Struggle
• Tiaira Robinson, Educator and Program Director, I AM Mentality
• Ogun Gordy, Co-Founder, Baltimore Cease Fire 365 and Beats Not Bullets
For additional information about this program you may email [email protected]
Attendance for this event is either virtual or in person ( limited spacing and masks are required)
In person location: Coppin State University, 2500 West North Avenue, Health and Human Services Building ( HHSB 103), Baltimore, Maryland 21216
Link for Virtual Event: https://bit.ly/38pjGa9
Event Contact
Coppin State University Nonprofit Leadership Program
Event Details
Tuesday, September 14, 2021, 5:30 PM – 7:30 PM
Location
Add Event To Your Calendar