Karla Chisholm is Moving Up! Live Stream + In-person Concert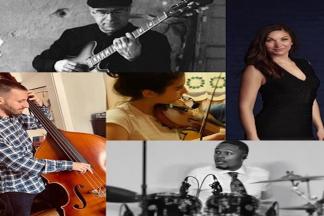 It has been 10 years since the Blues Alley release of Chisholm's first original album, "Moving On" to which Jess Wrighthand of the Washington Post wrote, "Chisholm's songs will wriggle their way into your head and stay there for the foreseeable future".
Covid brought on a new wave of inspiration and birthed a series of heartfelt songs which will be debuted at An Die Musik on July 9th and will be featured on her sophomore release titled, Moving Up!
Chisholm's voice is "strong and strident and then smooth as caramel as she dips into her lower register"…like sunlight hitting honey".
She will be sharing the stage with incredible musicians and friends including long-time Baltimore Jazz & Blues staple Michael Raitzyk on guitar, high school student and prodigy Rebekah Geller on violin, Towson graduate and funny man Shawn Simon on bass, and gospel-funk infused Marvin Miller on drums.
Showtime is 7 pm ET/6 pm CT/5 pm MT/4 pm PT/11 pm GMT
A limited number of in-person seats are available for $20 each.
Please email [email protected] for stipulations.
Streaming cost is $10
Donations are welcomed.
The link will be revealed to you 15 minutes before the show
and will remain active through July 15
Event Contact
Event Details
Friday, July 9, 2021, 7:00 PM – 8:00 PM
Add Event To Your Calendar