Make Studio Gets BACK to Business with Summer Exhibition and Sale!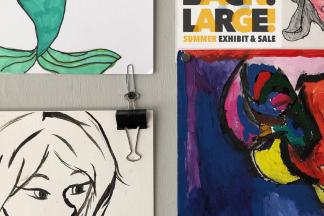 The majority of Make Studio artists have finally made it BACK to working in-person at the studio, with more returning throughout the summer. And our feelings about that are not small at all! In recognition of our artists returning to the studio, we are having a large sale - our biggest one ever - anchored by a big, lighthearted gallery show that celebrates the artists' activities, aspirations, and preoccupations while they worked from home and looked forward to being back together.
MAKE IT BACK Summer Exhibit & Sale launches with a soft opening during the 4th of July weekend in Make Studio's Showroom Gallery (3326 Keswick Rd. Baltimore) and remains open through the end of August. Up-to-date gallery hours will be posted throughout its run on our social media. We'll also be sharing online promotional discounts, "Flash Sales", and themed giveaways via our webshop and social media. The show will culminate with a backyard-style Cookout Celebration around Labor Day, along with a mouthwatering food-themed online show. Visit make-studio.org for updates.
Event Contact
Erin Barach
4436273502
Event Details
Saturday, July 3, 2021, 12:00 AM – Tuesday, August 31, 2021, 12:00 AM
Free
Location
Add Event To Your Calendar