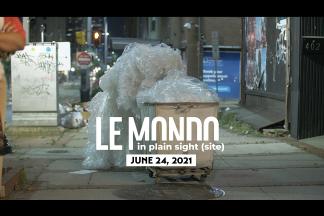 About the Event
The veils between worlds are thin and we can easily slip through.
Last November, we found a trove of abandoned traveling trunks. Delivered from where? From who? Going where? When? Impossible thoughts filled our heads. From these trunks, we asked artists to conjur portals to other realities.
In part three of In Plain Sight(site), a new cycle of artists continue this exploration of doorways to other realities. Shape-shifting between times and dimensions, these artists conjure visions that question our sight, embody the present impossible, and transport us into the unknown. This iteration will take audiences further through previously unseen spaces within Le Mondo.

Featuring
Ariel Foster, Kelley Bell, Markele Cullins, Joe Meduza, Sanchel Brown, Meg Spectre, Stephanie Ray, Carly J Bales, and Laure Drogoul, Melissa Penley Cormier, Beth Yashnyk, Jim Doran, and Jenny O'Grady.

How to Participate
Sign up for a slot at 7PM or 7:45PM below. Slots are limited! During each time slot, small masked groups will be led throughout the performance and installations in our space. Tickets are $10. You'll find us at 406 North Howard Street in the Bromo Arts District downtown.
As always, if finances are a challenge, please contact us here to join! No one is turned away.

Tickets and More Info
lemondo.org/events/in-plain-sight-site-2
Event Contact
Event Details
Thursday, June 24, 2021, 7:00 PM – 8:30 PM
Location
Add Event To Your Calendar