The Adventures of Pericles By William Shakespeare, Directed by Matthew R. Wilson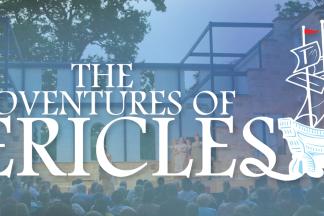 The Adventures of Pericles
By William Shakespeare, Directed by Matthew R. Wilson
ABOUT THE PROGRAM:
Rediscover the magic of Shakespeare under the stars with Chesapeake Shakespeare Company. THE ADVENTURES OF PERICLES opens July 2nd in Ellicott City, Maryland. Find details at Chesapeake Shakespeare.com
The ever-changing sea tosses Pericles from one fantastic journey to the next, as he encounters tyrant kings, riddles, shipwrecks, friends, and pirates. He eventually finds—and then sorrowfully loses—a family. Only a miracle can bring them together again, but in Shakespeare's sweeping fairy tale there is a joyous reunion and a renewal of life.
Tickets start at just $19. Gates and ticket tent open 90 minutes before showtime. Bring a picnic!
WHEN and WHERE:
July 2 - August 1, 2021, at the Patapsco Female Institute Historic Park in Ellicott City, MD
TICKETS:
Tickets start at just $19!
Event Contact
Brandon W Vernon, Marketing Manager
410-244-8571 x116
Event Details
Friday, July 2, 2021, 8:00 PM – Sunday, August 1, 2021, 8:00 PM
410-244-8570
Location
Add Event To Your Calendar